echo of Temppeliaukion Church
2021
Sound Performance / Field Recording Project
Temppeliaukion Church, Helsonki, Finland
Photo : Martin Dušek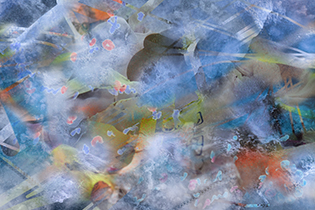 Image by Yoichi Kamimura & Olli Aarni
The vast glaciers that covered Scandinavia in the old days made grooves on the surface of the land and polished them. The glacier was thought to have retreated 10,000 years ago, leaving a variety of topography, such as moraine, drumlin, esker and numerous lakes. Among them, the bedrock in Temppeliaukio Church in Helsinki is very unique.
This church is built in a hollowed-out huge rock, and there are hollowed bedrock being exposed on the inner wall of the church. This bedrock space has excellent acoustic effects and is still used as it is, with the advice of the acoustical engineer Mauri Parjo. And you can see the traces of glacier on the surface of the bedrock. It can be said that this architecture is an acoustic architecture that keeps the memory of glacier.
Kamimura recorded environment sound of the church for gathering the memory, such as sound of water drop following along the bedrock, acoustic echo and vibration of the architecture. And also he had a collaboration with Olli Aarni who is a Finnish sound artist in the chruch as a concert event on 16th November, 2021.
@@@